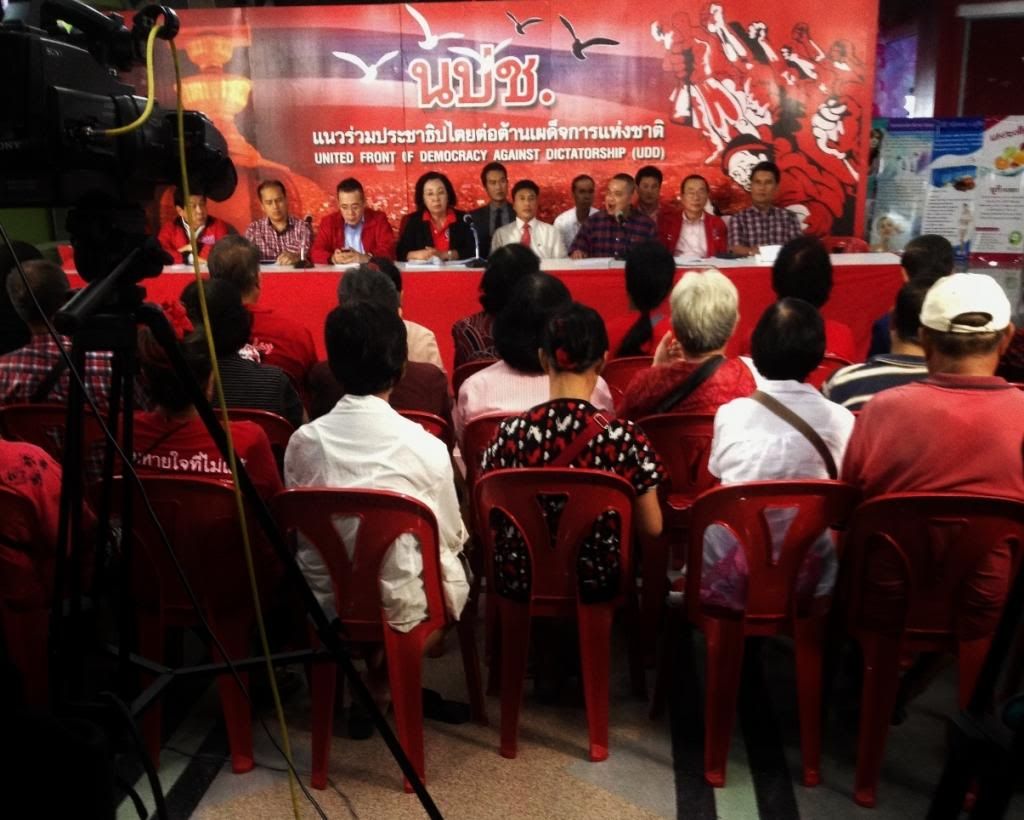 At the United Front of Democracy against Dictatorship (UDD) press conference on July 24th, 2013, Mr. Thanawut Vichaidit, spokesperson of the UDD, told the press that the Red Shirts are still strong supporters of the current government. "We maintain that we are still determined to fight by your side," he said.
Mr. Thanawut also continued to urge the government to endorse MP Worachai Hema's Amnesty Bill because it is the fastest way for political prisoners of all colors to be freed. Regarding the Democrat Party's recent interest in the Amnesty Bill, Mr Thanawut believed that it is simply a ploy by the opposition to slow down the pardon process even further. "Granting amnesty to political prisoners could have been done since Mr. Abhisit was in the Prime Minister seat, why did he have to wait until now to show interest?" said Thanawut.

Mr. Jatuporn Promphan, co-leader of the UDD, has reaffirmed to the Red Shirts supporters that the Pheu Thai Party is putting MP Worachai Hema's Amnesty Bill up for consideration as the first legislation to be debated when the parliament reconvenes. The dates have been set for the bill to be deliberated on August 7th, 2013. Mr. Jatuporn also praised Red Shirts supporters for their tolerant and non-confrontational approach in face of various provocations from opposition groups such as the Pitak Siam group led by Gen Boonlert Kaewprasit and the White Mask group.
Mr. Jatuporn reminded the UDD supporters that even though seven years have passed, the repercussion from the damages done by the 2006 coup d'état is still around. Despite the dissolution of the coup-makers' government, remnants such as the 2007 constitution, appointed senators and various independent organizations that were carefully placed within the country's democratic institutions have continued to create obstacles for the development of real democracy in Thailand.
Commenting on the Amnesty Bill, Assoc. Prof. Thida Tavonseth, President of the UDD, said "There is a need for an immediate Amnesty Bill because it has been three years and Red Shirts protestors are still incarcerated while other cases have already been processed. This is causing tremendous grievance among Red Shirts supporters."
"Since December 22nd 2012, at the "Bonanza" event in Khao Yai, the UDD had suggested 3 key actions to be taken by the government and we still stand firm behind them now: 1. Amnesty Bill, 2. Constitutional Amendments and 3. ICC Investigation into the 2010 government crackdown. It is almost a year now and none of these has been resolved!" UDD president remarked.
Assoc. Prof. Thida announced at the end of the press conference that there is going to be a meeting between the co-leaders and nationwide regional directors of the UDD on August 3rd 2013 in order to enhance collaboration within the organization.