On Tuesday 30th July 2013, First Secretary Timothy P. Trenkle, along with Jessica Smith, political adviser to the United States Embassy, visited the United Front of Democracy against Dictatorship (UDD) headquarters in Imperial Lad Prao for a meeting with Assoc. Prof. Tida Tavonseth, President of the UDD.
The congregation was of casual nature where Assoc. Prof. Tida explained to the First Secretary the history and the current situations surrounding the UDD organization. Mrs. Tida also clarified to the representatives of the US Embassy about the current UDD's priorities and their 3 points suggestion to the government (1.Amnesty 2.Constitutional amendment 3. Allow International Criminal Court to investigate the military crackdown on protestors in 2010).

When asked by Mr. Timothy about the current relationship between the Pheu Thai Party and the UDD, Assoc. Prof. Tida reaffirmed the organization's commitment to the party, "Even though some supporters of the Red Shirts may be disappointed by the Pheu Thai led government performances and treatment their demands received, but most of them will continue to support the party. The relationships between the two parties are like a flock of birds, we might peck each other along the way but all of us are flying to the same destination," she said.
First Secretary Timothy appreciates Mrs. Tida's openness and praised the UDD organization for their commitment to the practice of transparency and other democratic principles within the organization.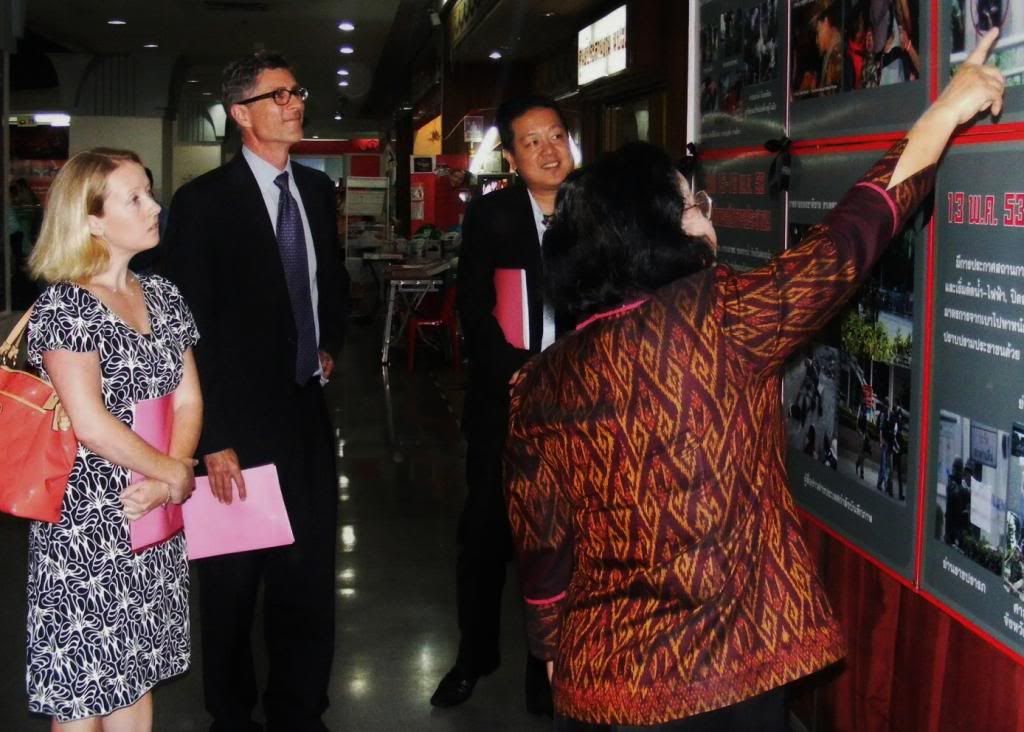 After the meeting, Assoc. Prof. Tida invited the First Secretary to visit the photo exhibition of the 2010 violent crackdown on protestors that was set up by UDD Central Office in front of the headquarter on 5th floor of Imperial World Lad Prao.